ACTIVITY SHEET: Balloon shapes Cut & paste the matching balloon art shapes
ACTIVITY SHEET: Animal balloon word search Find the word for each animal
ACTIVITY SHEET: Balloon flowers Add or subtract the Balloon Flowers. Then color for fun.
ACTIVITY SHEET: Juggling balls Connect to make a square. Play with friend for more fun.
ACTIVITY SHEET: Balloon dogsFind the 2 dogs who look exactly alike.
ACTIVITY SHEET: Cartoon clownsI see Charm the clown in there, do you?
ACTIVITY SHEET: Balloon mazeYou can't pop your way out of this one.
ACTIVITY SHEET: Super Geopup Find the Super Geopup balloon wearing a super hero cape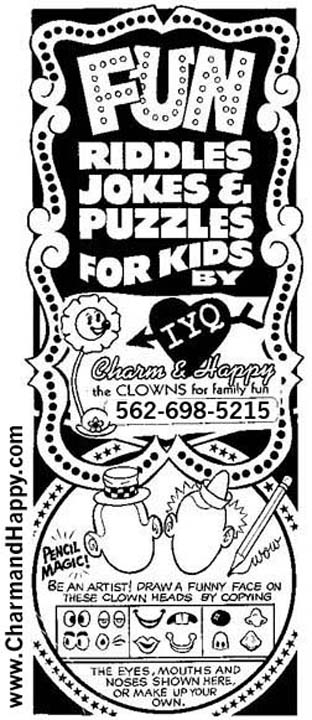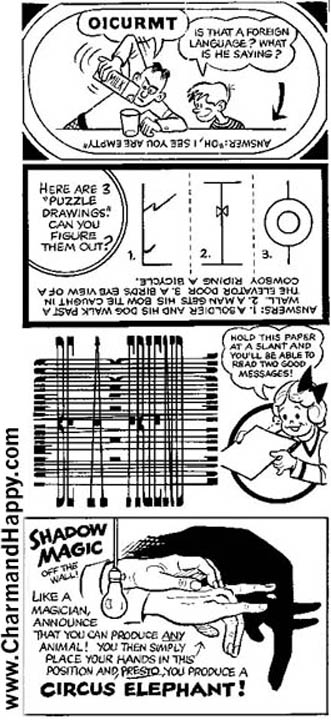 FREE "APP's" Coming Soon! Enjoy these FREE Children's Activities for now!
HOME
|
Carmen@CharmandHappy.com
| 877-725-6967 |
CONTACT US
|
Areas of Service
|
PRESS
|
Testimonies
Face Painter | Balloon Artist | Clown Show Entertainment | Los Angeles, Orange County, San Bernardino

.

.
.

.
.

.
.

.

.
.

.

Coloring sheets, kids activity sheets, coloring pages for kids, learn some jokes and illusions, word puzzles
NATIONAL PUZZLE DAY January 29, 2011