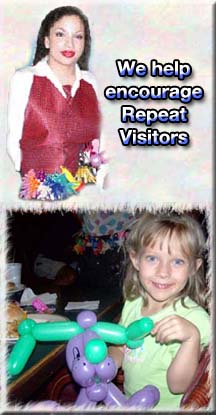 Once you see
what a big "Hit" this is,
we're confident that
you'll want us to
come back again,
and again, and again.

HOME | email | 877-725-6967 | Submit a Twister | Restaurant Links | Articles | BalloonHQ.com
Enjoy entertainment at select family restaurants featuring a Balloon Art Twister
ARTICLES
Please email us to present articles for review.
1. How To Effectively Use Live Entertainment in Bars and Restaurants
Hello Carmen... Thanks for your email. You absolutely can use the article on your site.
Please retain the footer with my information in it.
Love your sites... I've never seen organized sites for balloon twisters before. Very cool.
EMAIL :)Phil Johnson / Roadside Attraction

WANTED by Twister: Restaurant to twist at weekly
WANTED by Restaurant: Twister to entertain at my location
Twisters looking to work a restaurant may email us.
Include: Weekly days, times & cities you prefer.
Restaurants looking to hire a twister may email us.
Include: Weekly days & times you're interested in.
for TWISTER SCHEDULES, select a location

Entertainer at a restaurant, but not a Twister? No problem, submit anyway. FunForKidsNight.com Coming Soon!

END OF PAGE