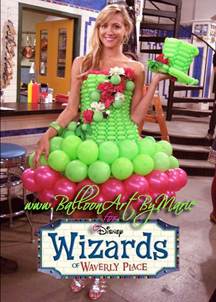 Marie Dadow

L'Artiste de Ballon

602 319-4789

14226 W Mauna Loa Ln

Surprise, AZ 85379

Marie is definitely not your typical balloon twister. She is an award winning balloon artist and designer. She has studied with the most elite in the industry and has instructed both local and international balloon artists and entertainers.

Her uniquely designed balloon dresses and costumes have appeared on Disney Channel's Wizards of Waverly Place, Univision's Sabado Gigante as well as in Botchii, Filigree, Vedere, New Times, Pin-Up Perfection and numerous other publications. Marie showcased her designs in the first US held Balloon Couture Fashion Show in Las Vegas, NV. Since that appearance, her designs appeared on runways in the US, Europe and Asia.