CharmandHappy.com Face Painting and Balloon Art in Whittier, Pico Rivera, Buena Park, Cerritos, Santa Fe Springs, Montebello, Buena Park, CA 877-725-6967
Carmen Tellez and her team of face painters and animal balloon art twisters are approved vendors in Los Angeles County and North OC face painting. We carry full liability insure to provide services in ALL
parks in O.C.
Let >CharmandHappy Face Painter SoCal.< be your choice for the perfect Face Painting at your private party, corporate event, or special occasion. >CharmandHappy Face Painter SoCal.< will travel nationwide and international from Whittier (Los Angeles County), CA. CharmandHappy.com is proud to announce that our team members are also based in most major cities nationwide.

Additional Performers
click here for details

Event Planners
Are you a professional event planner, catering company, public relations company or wedding consultant who hires face panters in the Southern California area like Los Angeles, Orange County, San Bernardino, Inland Empire Riverside, San Diego, area who books two or more events per year? If so, contac us about repeat client discounts. We can offer you a rate that matches our skill level yet allows you to still make a profit with our clients. Email Carmen@CharmandHappy.com

Nationwide Face Painters interested in joining our team
CharmandHappy.com frequently has the opporunity to travel in North America as well internationally for face painting, balloon art and other performances. Often we need to hire entertainers based in those areas since we can not be in two places at once. Please contact us if you are interested in being a team member of CharmandHappy.com We pay promptly. Each job pays differently. Email Carmen@CharmandHappy.com

Face Painter FEE RANGE:
$50 sitting
$185 - $250 basic 2hrs.
$325 - $625 specialty 2hrs.
$CALL - schools
$CALL - restaurant weekly
$CALL - holidays
$CALL - multiple day event

INFLUENCES:
Snazaroo Gary Cole, Marcela Murad, Jinny G. with Mehron Paradise, Ginny Colangelo with GincProductions, Nick and Brian Wolf Brothers, Mr. Rivera (8th grade Art Teacher) can't forget him.

DESCRIPTION:
Carmen Tellez & professional team utilize only the best quality theatrical make-up available. Transforming children and adults into their favorite character, fantasy look or monster has been my Artist motivation since 1994. Unforgettable smiles on every painted face keeps us loving our art.

COMBO PACKAGE:
- Face painter
- Balloon artist
- Caricature artist

2008 Business Licenses:
Pico Rivera
Newport Beach
Beverly Hills
Irvine
Arcadia

Chamber of Commerce:
- Pico Rivera
- Whittier
- Cerritos
- Beverly Hills

SLIDE SHOWS:
CharmandHappy on Slide

VIDEOS:
CharmandHappy on YouTube

CLOWNS4ALL PHOTOS:
CharmandHappy Gallery

BLOG:
CharmandHappy on MySpace

ARTICLE: Successful Birthday
CharmandHappy Article

ONLINE COUPON:
CharmandHappy MamaSource

ONLINE AGENCY BOOKING:
CharmandHappy thru agency

DVD: Face Painting with Carmen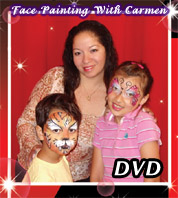 See how easy it is to learn face painting!
You will learn how to paint like a pro with host Carmen Tellez. Carmen aka Charm the Clown, teaches two great faces, the butterfly and the tiger. Her easy to follow along, slow and detailed instructions, makes this the perfect dvd to learn from. Grab a friend or practice on your arm and in no time you will be face painting like a pro. Once you watch and master these two faces, your options are endless! Make thousands of children happy with your new found talent!
- No art experince needed!
- Learn sponge techniques and sponges used.
- Learn blending techniques.
- Learn about the different brush techniques and brushes used.
- Learn the differences in make-up.
- Tiger Face explained.
- Butterfly Face explained.
With the dvd format you can pause, rewind and watch over and over with a touch of a button!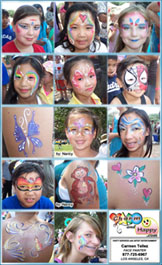 CharmandHappy.com Party Services with Artist Entertainment
Bring your party to life with color, paint, imagination and personality!

The face paintings shown here are Carmen Tellez's first airbrush face paintings as a student of Ginny Colangelo located in Boston, MA
GOVERNOR ANNUAL BLOCK PARTY 2006

Ginny is a nationwide Airbrush Aritst instructor. Please contact her for class schedules at www.GinCProductions.com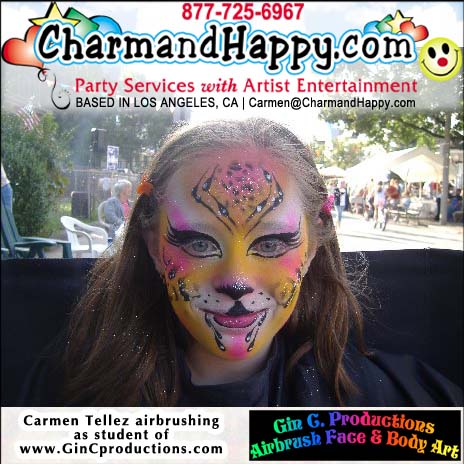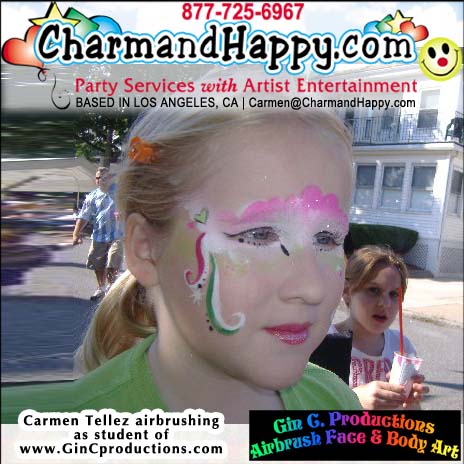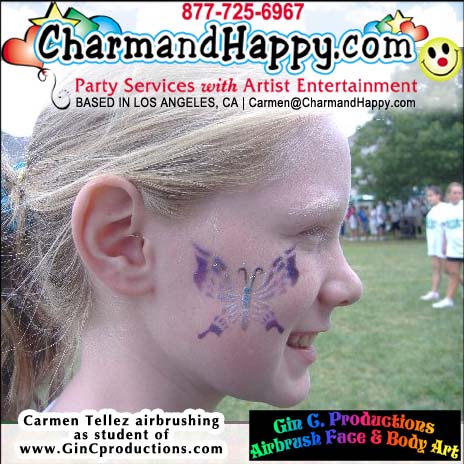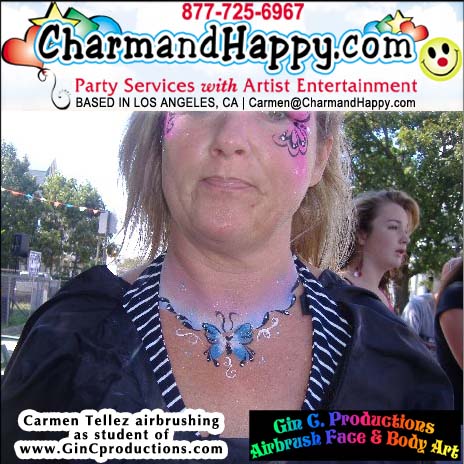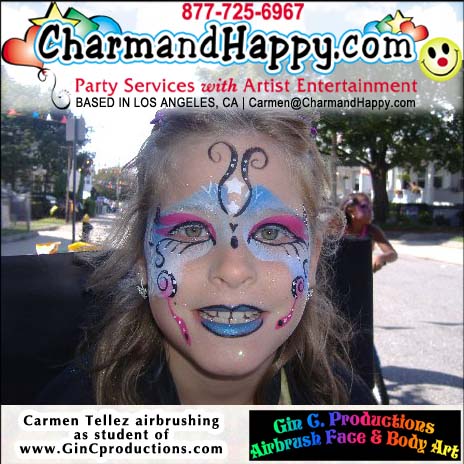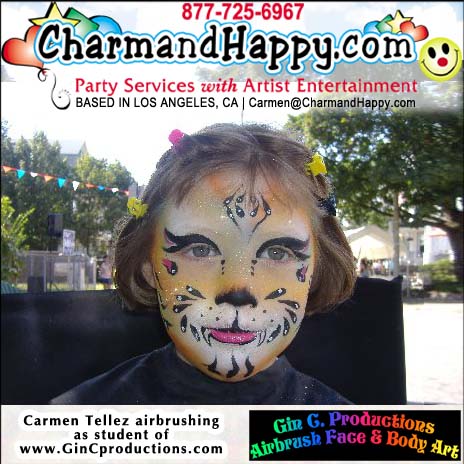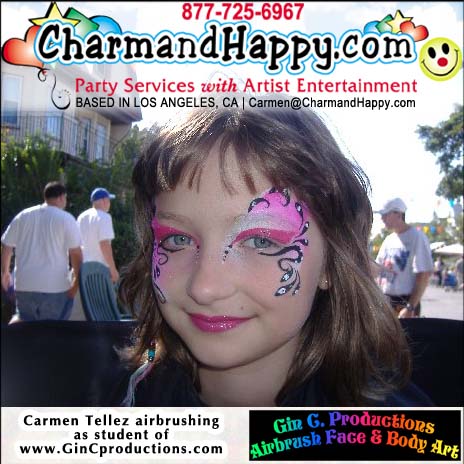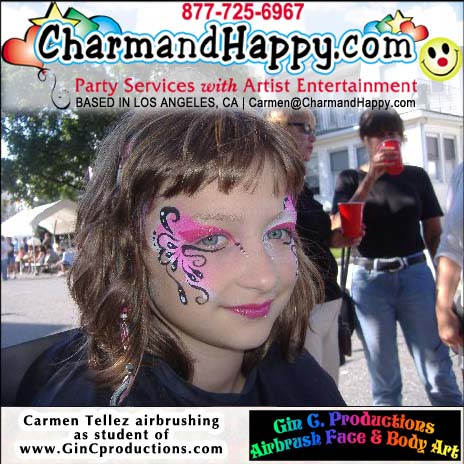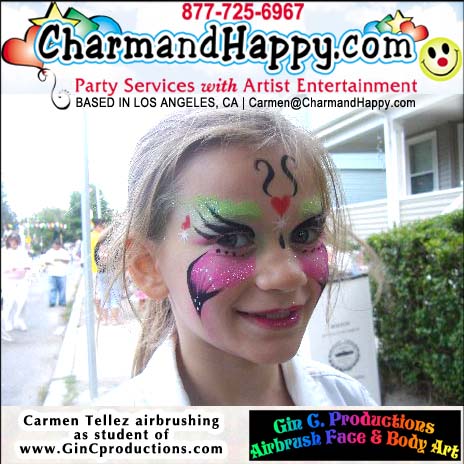 Available for:
Anniversaries, Awards Nights, Bachelor Parties, Bachelorette Parties, Banquets, Bar Mitzvahs, Bat Mitzvahs, Birthday Parties, Casinos, Celebrations, Children's Birthday Parties, Christenings, Christmas Parties, Church Services, Clubs, Coffee Shops, Community Events, Conventions, Corporate Functions, Country Clubs, Cruise Ships, Dinner Dances, Festivals, Fraternity Functions, Fund Raisers, Funerals, Graduation Parties, Grand Openings, Hotels, Jingles, Movie Soundtracks, Picnic, Private Parties, Proms, Resorts, Restaurants, Reunions, Showers, Ski Lodges, Sorority Function, Studio Session, Temples, TV Soundtracks, Weddings

PERFORMING SINCE:
1994

OPTIONAL EXTRAS:
Themed balloon decorations. I am fortunate and honored to have been on the face painting team of some the greatest face painters world-wide. And my own face painting team has been selected to paint for Animal Planet's Family Pet Expo, Alaska State Fair, several Sports Venue, Many schools, and several hundred cute birthday parties. High profile clients including celebrities are also on my schedule list. Most popular faces include Spiderman, Batman, Princess Ariel, Cinderella, bird face, fancy curls and swirls, hearts, ribbons, skelatons, butterfly face, tiger face, clown faces just to name a few. At the KISS Concert I was hired to paint at, mostly every one wanted me to paint them as the Gene Simmons demon. So the choice is yours and the possibilities are endless.

LOCAL AREAS OF SERVICE:
Carmen Tellez & face painters team available in these cities. As mentioned above, we do travel and do have out of area team members. Artesia, Lakewood, Hawaiian Gardens, La Palma, Norwalk, Bellflower, Buena Park, Cypress, La Mirada, Long Beach, Los Alamitos, Santa Fe Springs, Downey, Fullerton, Garden Grove, Paramount, Whittier, Anaheim, Stanton, La Habra, Huntington Beach, Newport Beach, Pico Rivera, Whittier, Commerce, Montebello, Signal Hill, Bell, Bell Gardens, Stanton, Brea, San Gabriel, Alta Dena, Pasadena, Studio City, Beverly Hills, Westwood, Brentwood, Gardena, Hawthorne, San Pedro, Rancho Palos Verdes, Manhattan Beach, Malibu, Inglewood, Compton, East L.A., Los Angeles, Garden Grove, Santa Anita, West Covina, Covina, La Puente, Baldwin Park, San Bernardino, Rialto, Rancho Cucamonga, Anaheim, Orange, Laguna Hills, Mission Viejo, Irvine, Duarte, Corona, Yorba Linda, Colton, Loma Vista, Inland Empire, El Monte, Rosemead, Temple City and surrounding areas.

TESTIMONY:
Hi Carmen!
I just wanted to THANK YOU so much for the clown service you provided for Anaya's birthday party!!!
Everyone jus keeps talking about how well the clown handled the kids...how funny & cute the magic show was...how incredible the face paintings were...and how cute and kid-friendly the clown's costume was!!!! You
were FANTASTIC!!!! GREAT!!! GREAT!!! GREAT!!!
I will definitely keep your contact number just in case I need you guys for another event or if someone else needs a clown!!!
P.S. Feel free to use all or parts of my comments
above as a testimonial, if needed!!!
Again thank you,
La Shawnta :o)(2007 Long Beach, CA)
TESTIMONY:
Extreme Make-Over event in Redondo Beach, CA
"Your tattoo artist was top notch friendly, talented & professional. Everyone loved her. The block party was a success in our eyes. I've received your adjusted invoice and mailed a check yesterday afternoon. Thanks again."

- Stella Rothluebbers (2007 Corn Construction Group, Inc., Redondo Beach, CA)
HOME Carmen@CharmandHappy.com877-725-6967 | CONTACT US | Areas of Service

---

REGIONAL PARKS IN ORANGE COUNTY that CharmandHappy.com are APPROVED VENDORS for Company Picnic & Birthday Party Services with Artist Entertainment
ALISO VIEJO | Aliso & Wood Canyons Regional Park, Iglesia Park, Anaheim, Featherly Regional Park Canyon RV, Ramon Peralta Adobe Historic Site, Yorba Regional Park

ANAHEIM | Featherly Regional Park Canyon RV, Ramon Peralta Adobe Historic Site, Yorba Regional Park
BREA | Carbon Canyon Regional Park
BUENA PARK | Ralph B. Clark Regional Park

COSTA MESA | Fairview Park, Tewinkle Park, Coto de Caza, Thomas F. Riley Wilderness Park

CYPRESS | Arnold/Cypress Park, Cypress Nature Park
DANA POINT | Dana Point Harbor, Dana Point Youth & Group Facility, Lantern Bay Park, Salt Creek Beach Park, Doheny State Beach
FOOTHILL RANCH | Whiting Ranch Wilderness Park, Fountain Valley, Mile Square Regional Park
FULLERTON | Ted Craig Regional Park, Garden Grove, Garden Grove Park, Twin Lakes Park
HUNTINGTON BEACH | Bolsa-Chica Wetlands, Sunset Beach, Sunset-Huntington Harbor

IRVINE | Alton Athletic Park, Colonel Bill Barber Marine Corps Memorial Park, Deerfield Community Park, Harvard Athletic Park, William R. Mason Regional Park
LAGUNA BEACH | Crystal Cove State Park, A liso Beach/ South Laguna Beaches , Laguna Coast Wilderness Park

LAGUNA NIGUEL | Laguna Niguel Regional Park, Aliso/Woods Canyon Regional Park

LA HABRA | Vista Grande, La Bonita Park
LAKE FOREST | Heritage Hill Historical Park, Whiting Ranch Wilderness Park

LOS ALAMITOS | Los Alamitos Racing, Little Cottonwood, Oak Site
MISSION VIEJO | Oso Viejo Park, Youth Athletic Park, Curtis Park, Pavion Park
NEWPORT BEACH | Upper Newport Bay, Newport Harbor & Newport Dunes Resort, Peter and Mary Muth Interpretive Center
ORANGE | Irvine Regional Park, Santiago Oaks Regional Park

PLACENTIA | Historic George Key Ranch, Tri-City Park Lake
SAN CLEMENTE | San Clemente State Beach, Bonito Canyon Park, Ole Hanson Beach Club, Park and Pool, San Gorgonio Park
SANTA ANA | Old Orange County Courthouse (historical park)

SAN JUAN CAPISTRANO | Ronald W. Caspers Wilderness Park

TRABUCO CANYON | Arroyo Trabuco, O'Neill Regional Park

WESTMINSTER | Liberty Park

YORBA LINDA | Historic Yorba Cemetery
Other
Arden -
The Helena Modjeska Historic House And Gardens
Arroyo Trabuco -
Addition to O'Neill Park
Trabuco Canyon -
O'Neill Regional Park