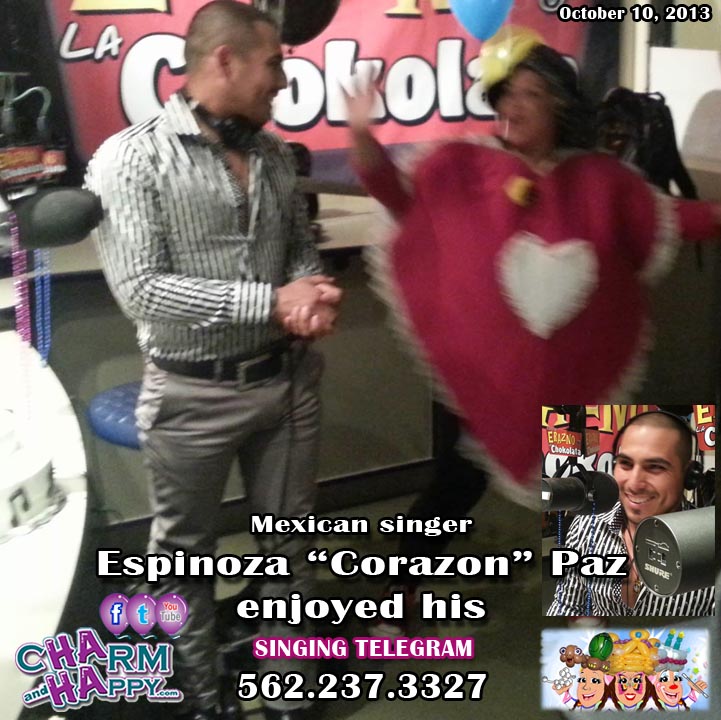 FUN FACT: Several once famous and some now famous TV and Music entertainers has had at least one Singing Telegram experience. Mexican singer Espinoza "Corazon" Paz was pleasantly surprised with a Spanish serenita on his birthday at a Los Angeles radio station.

Carmen Tellez has been traveling the country with her Charm and Happy SINGING TELEGRAMS since 1994.
Singing Telegrams have been around as a favorite birthday & personalized message greeting since 1933. Let us help you entertain, tease to surprise who you choose.
Pinky is our famous Los Angeles & SoCal singing gorilla. As experienced by Harry Connick Jr., Extreme MakeOver host Ty Pennington, along with many others.
The latest craze has been our cheerful EMOJI face singing telegram for ALL ages with dance moves, balloons and tunes.
Ask about Mercedes our "Mini Love Notes" singing telegram gal.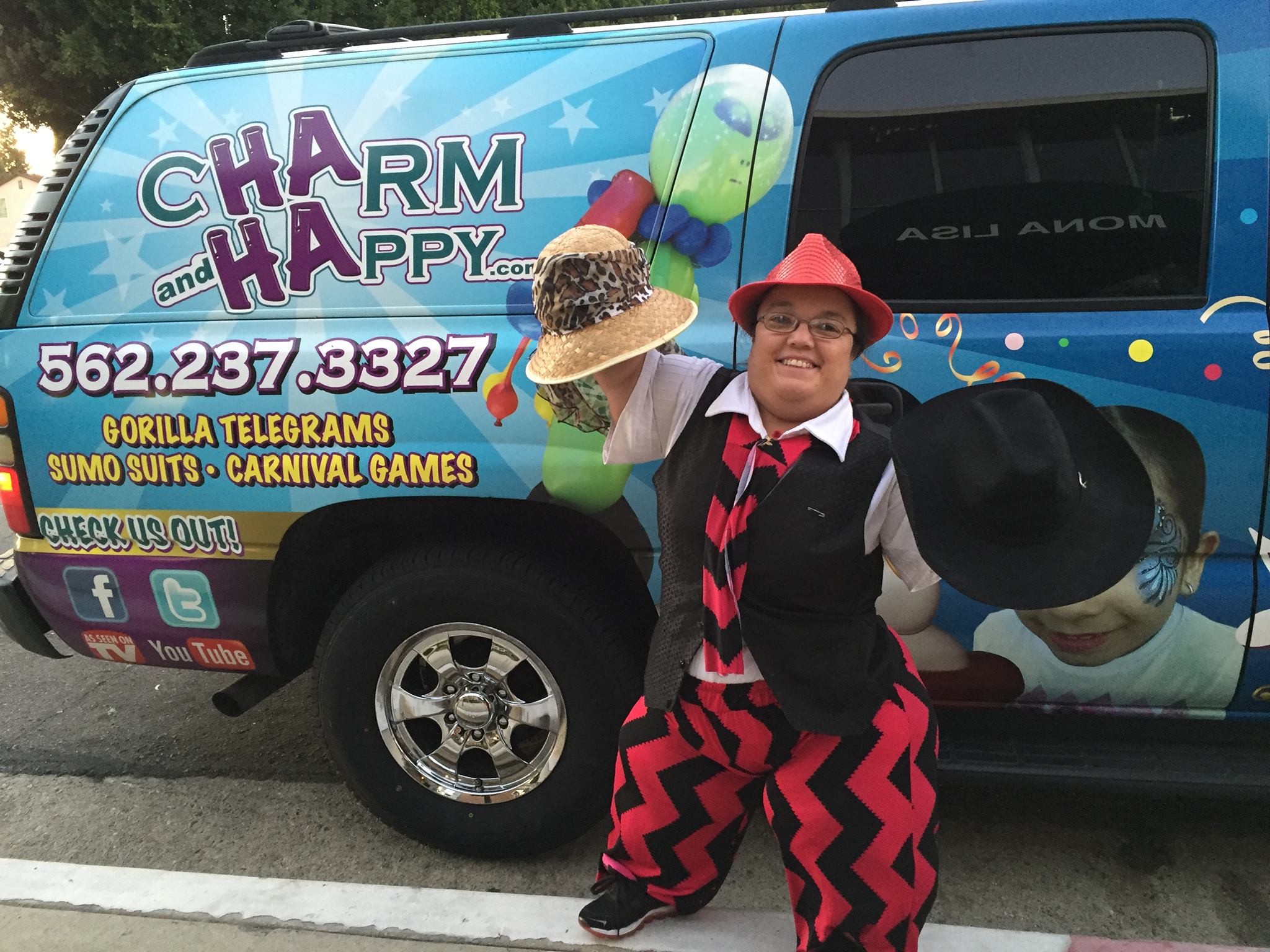 What did mother of writer Kathy Greenberg "Ratatouille" send her for her birthday? That's right, a pink gorilla named Pinky SINGING TELEGRAM from CharmandHappy.com
What did she do? How did she react? What were her final words? She smiled, laughed, was surprised, all while she had a friend on Skype to see the entire performance. She was a great sport. Mother knows best. Pinky came thru with sharing Love and Happiness in Los Angeles, CA again.
We all know someone who works like a dog. August 5th is the official bizarre national celebrated day.
Some people skate by, doing as little as possible. Others, do only what they have to. Others still work like a dog. While work is to be done, they dig in relentlessly. They seldom take a break until the task is completed.
Honor your hard worker with ANYTIME with Smootchie the tail wagging, suit wearing office dog Singing Telegram.
Singing Telegram Pictures
Often photos tell a story. In the old days, there were Kodak Moments type of photographs. This pic taken at Polly's Pies in Hemet, CA shows 3 faces in the background of our Cupcake the gorilla and Julie celebrating her 53rd birthday. Those faces are just as great with each of their expressions.
Call 562-237-3327 to schedule your next Singing Telegram in Southern California or 877-725-6967 nationwide in most major cities.
Holiday and Christmas Characters
Being away from family during the holidays is tough. Sending a personalized singing telegram is a fun loving way to express you wish you were all together. It's even better than a virtual e-card.
This silly moon faced GRIM REAPER Singing Telegram is the preferred prince of announcing three most popular birthdays for ages 21, 40 and 50. Or for a distored sense of I Love You on Valentines.
Who? What? When? Where? and Why? That's all we need to know to help you send a personalized singing telegram to that special person.
IMPORTANT: Each delivery is within a 1/2 hour flex arrival time unless otherwise specified. We reserve the right to substitute or upgrade order for the same dollar amount if necessary. Outside of range please call for travel fee. Any orders sent to a high traffic area during a high traffic times is subject increased fee. Please make sure we're given correct delivery information. We will not be responsible for gifts left with any other persons accepting order. If we are given incorrect address or time gap, you are still responsible for total payment of order due. If for any reason, our delivery or singing telegram fails to arrive. You will be refunded 100%.
WHAT HAPPENS? Your special person will be surprised with an entertaining act of a comedic theatrical performance to relay your personalized message. Ask about balloons to be included if you are interested as an added gift. Have a special idea for your singing telegram? Sure! Bring it to our attention. We'll be happy to incorporate your creativity. Just tell us when and where and we'll be there!