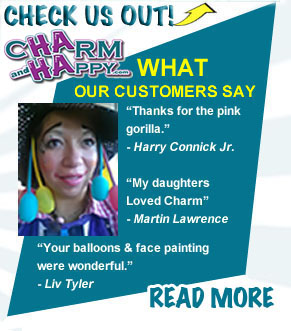 Carmen Tellez has been traveling the country artist entertainment since 1994.
She combines elements of THEATRE, family comedy, slapstick skills, JUGGLING, voice portraying for PUPPETS, song mocking, silly business bits & a love for whimsical FACE PAINTING and BALLOON ART to make each event wholeheartedly fun.
We help you create positive experiences for your company eventsby providing ambassador style options.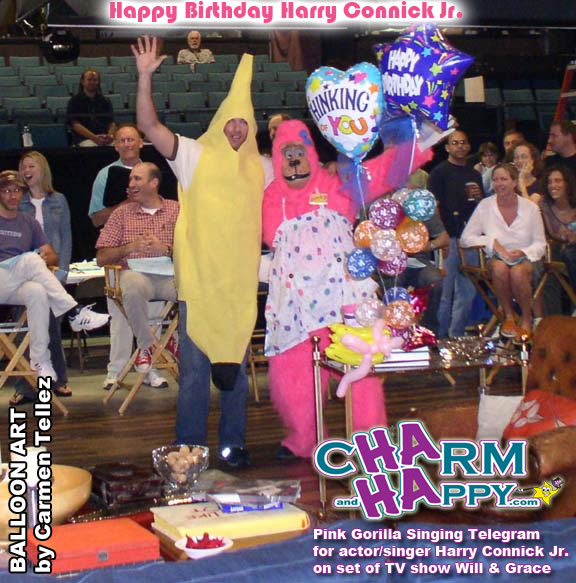 Pink Gorilla Singing Telegrams
What Do You Give to that Unique "One of a Kind" Special Person? Pinky, of course, as seen here with Harry Connick Jr.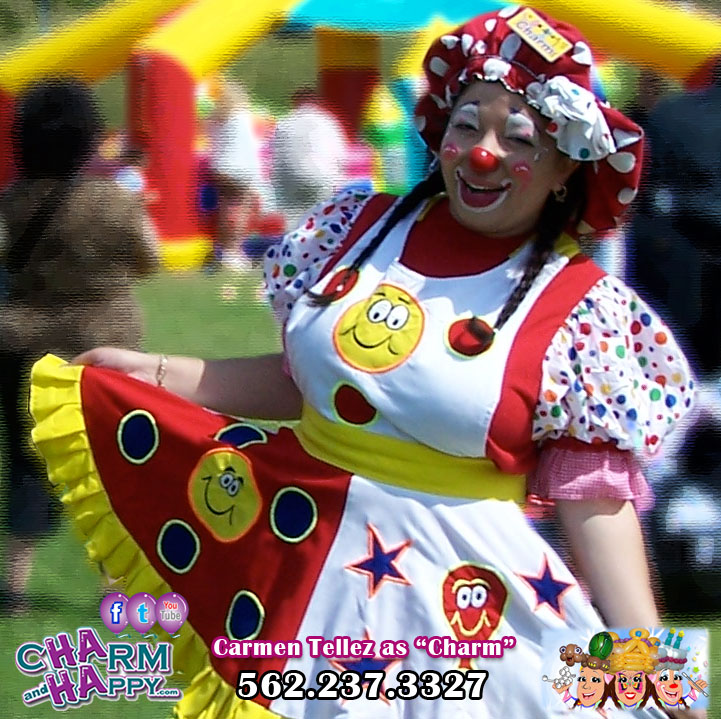 Artist Entertainer, Carmen Tellez of CharmandHappy.com continues to study on a regular basis. Including but not limited to Mooseburger circus clown camp in Minnesota, New York Goofs stage clowning in New York, Clowns of America International in Louisiana, Twist-n-Shout intense advanced balloon art in Missouri, International Face and Body Art in Florida and the list just goes on. She has a heart for sharing laughter wherever she goes and clearly the kids & families at her birthdays know it with all their heart with stories to tell about her for years.

The HAHA truck featuring Balloon Art & Face Painter
Artist Entertainer Carmen Tellez travels around from events and parties in The HAHA truck. On occasion someone on the streets of Los Angeles or SoCal will snap and pic and post to FaceBook (tagging CharmandHappy) with some silly comment.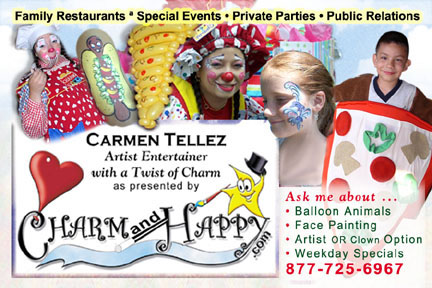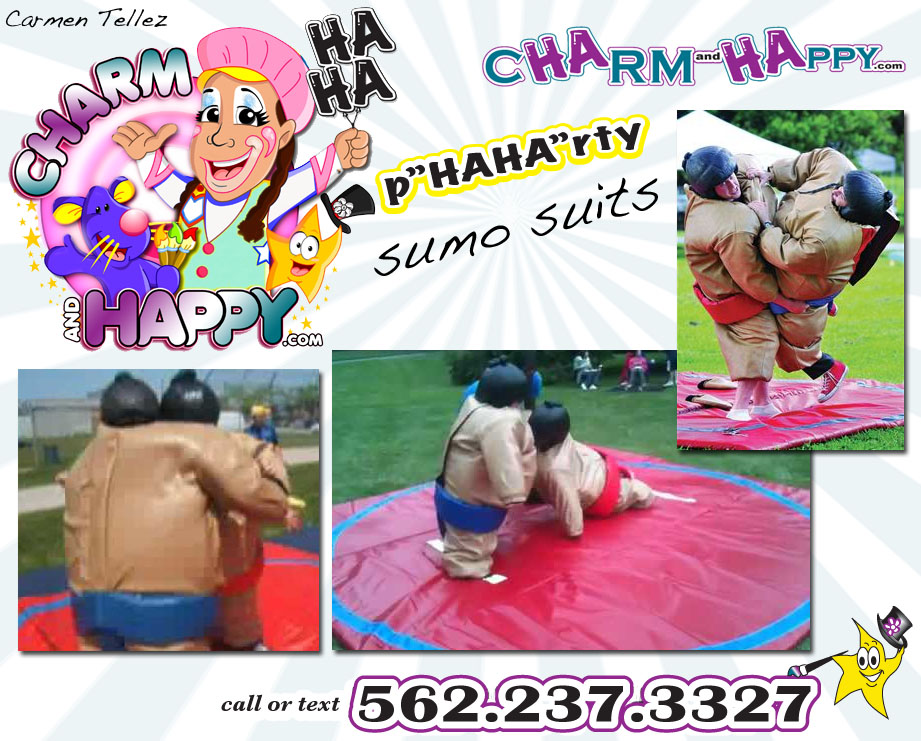 A Company Picnic featuring CharmandHappy.com can increase the morale in the office as employees feel appreciated outside of the workplace. A company picnic fosters an environment where employees that are at different levels of the company hierarchy can socialize with coworkers they may not have opportunities to socialize with during their standard workday. This is an opportunity for upper level management to be more visible to the workforce of the company. A variety of company picnic options available to choose including sumos, relays, and even artist entertainment to keep children happy.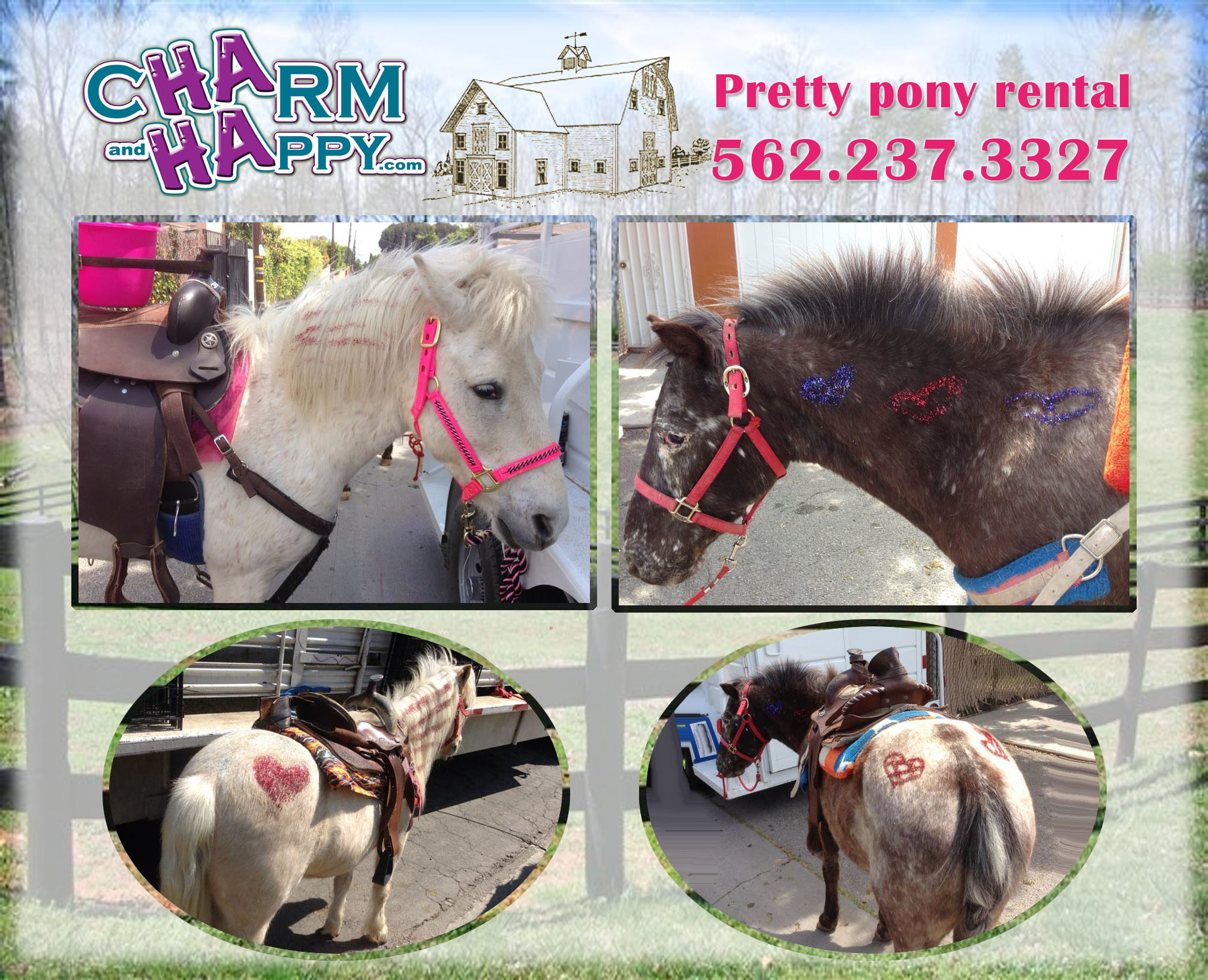 Pony Rides and Petting Zoo Rentals
2014 Year of the Horse has increasingly made pony rentals popular for events & Birthdays.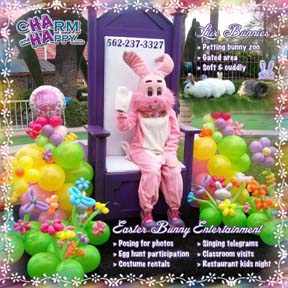 Bunny rabbit mascot rental or for hire. Also available Easter and Spring theme related face painter artist, balloon artist, crafts and activities for Easter egg hunt, community events and private parties.
Worlds Pinkest Leprechaun LINK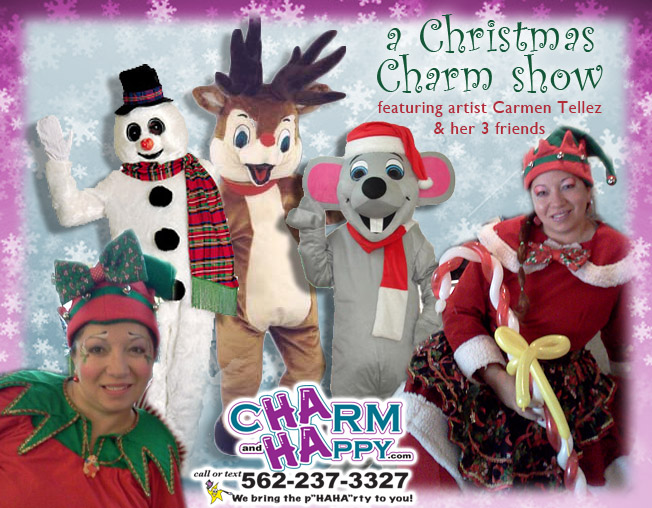 Santa Claus and his cast of character friends like the smiling, dancing silly Elf, Rudolph the red nosed reindeer, Jack Frost the snow man, Christmas House Mouse, Carolers, fill your guests with Holiday Spirit and an atmosphere of cherished warmth.