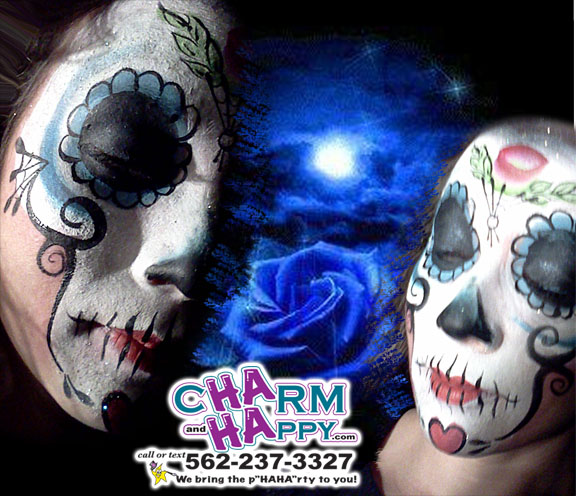 Company picnics and community events with Fiesta themes enjoy the art of Sugar Skull Face Painters USA in SoCal and Nationwide events by CharmandHappy.com
Carmen Tellez, featured artists for Sugar Skull FACE PAINTERs USA for Day of the Dead (Dia de los Muertos) events providing a clean, professional team of artists who arrive ready to start on time.
Only the best brands of face painting make-up that's formulated for skin is used at each family party event. All ages enjoy getting their face and body painted. Age appropriate designs require a special skill. We can do it!
Unlimited choice of art designs are available to guests for cheek art, masks, full faces, half face ideas, memorial alters face designs, princess skull faces, dead super heros or even a halloween theme you may prefer. Ask about Nationwide Halloween & Day of the Dead professional team members available in most major cities nationwide.What's your favorite sugar skull face painting.
Party face painting also available for birthday parties, princess theme, super hero, animal faces, special requests, holidays and company events.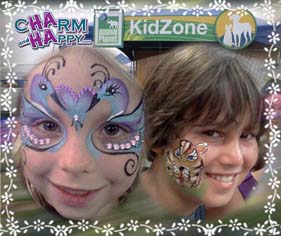 Menifee Hemet San Jacinto Perris Beaumont Temecula Cherry Valley Yucaipa Moreno Valley Corona Ontario Montclain San Dimas Claremont
Halloween & Holiday Face Painting
Seems that each year Skulls become more popular even when it's not Halloween. Sugar Skulls for Dia de la Muerta (Day of the dead) are prettier all the time.
SEE PICS Winter holiday painted faces
SEE PIC Valentine heart faces
SEE PIC Easter themed painted faces
SEE PIC Summer flowers face painting
Sugar Skull faces have always been the most asked for face painting design at Day of Dead events usually held late October or early November. There are so many designs to choose from or custom create as a request.
Any range of colors can transform a face to fit any personality. Any and all elemements of traditional Sugar Skulls may include roses, webs, swirls, stitches, crosses, tears, jewels, glitter, eye lashes, fowers, teeth, bones, etch.They get sooooo excited when they are shown a full variety of other species to paint either as a mask, paint on hand, full face or even just a cute or sassy cheek painting.
Airbrushing is a fast method of face & body painting. The event celebration and number of children depends on whether the best airbrush choice would be freehand, black ink stencils, multi color stencils or a mixed option.
Designs can be chosen either from a menu board, a size selection or a theme to match the celebration.
Carmen has a pep in her step when applying airbrush tattoos or spraying on a unique image.