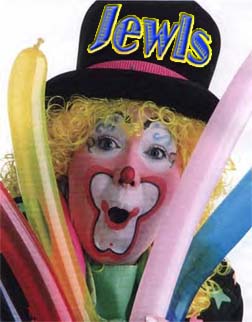 Jewls
Best contact time: 9am-5pm
989-835-8237
MONDAYS / 5:00pm - 7:00pm
Cocoa Joe's
@ Bluegrass & Isabella Roads
Mt. Pleasant MI
TUESDAYS or WEDNESDAYS / No current schedule
Now accepting inquiries from
restaurant management within these areas:
Midland, MI
Mt Pleasant, MI
Bay City,MI
Coleman, MI
Sanford, MI
Beaverton, MI
Surrounding areas
Glynis and James

248-217-1563
SUNDAYS (Every other Sunday) / 10:00am - 2:00pm
Leo's Coney Island
525 N Main St., Milford, MI 48381 / (248) 684-1772

Lovely & Derby

(313) 277-0800 or
(888) 8-2-2CLOWN
Come join Lovely or Derby at
Buffalo Wild Wings
41980 Ford Rd
Canton, MI

Wednesdays from 5PM-8PM

Come join Janice or Dan at
Buffalo Wild Wings
5223 Highland Rd
Waterford, MI 48327

Wednesdays from 5PM-8PM

Join Lovely or Derby at
Big Bear Lodge
25253 Telegraph Rd
Brownstown, MI

Thursdays from 5:30PM-7:30PM

R.U.B. BBQ
Detroit & Warren

Sundays 4PM-6PM
at the Detroit and Warren locations

18 W. Adams
Detroit, MI 48226

5702 E 12 Mile Rd
Warren, MI 48092

Dance party for kids and parents @ Boogie Fever Jr!

Come and See Derby, Lovely or some of their friends
and get balloons and face paintings!

2pm-5pm
1st Saturday of the month
(July-September: off - no event)

Boogie Fever
22901 Woodward Ave
Ferndale, MI

Derby will be at the Old Winery
at 10AM, Saturday, February 25
doing faces and having fun!
31505 Grand River Ave, Farmington, MI.

(313) 277-0800 Lovely@2clowns.com
Toll Free (888)8-2-2CLOWN
Our Motto: Its NEVER 2 late 2 have a happy childhood!