Winner of: LA's BEST Los Angeles family entertainer
Los Angeles Magazine page 76
International magician and headlining comic Wacko has performed for royalty, celebrities, our troops overseas, top comedy clubs, and even our former first lady Michelle Obama.Wacko is a regular performer at the world famous Hollywood Magic Castle. Wacko's hilarious comedy and incredible family magic show has been enjoyed at Disney's private and public events.
"The Wacko Show by Ramon Medellin of Santa Monica mesmerized the children. He levitates a wood table, pulls coins out of ears and made everyone laugh..." -OC Register
"Wacko's performance in his highly creative magic and illusion show was absolutely the crowd, (and casts) favorite." -Entertainment Operations Manager for Disney Motion Pictures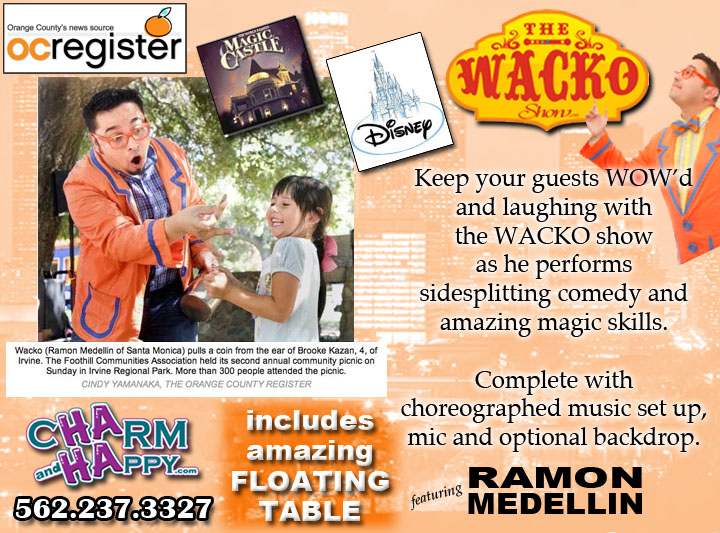 Click to see VIDEOS of The Wacko Show performing at School shows, Disney special events, libraries, corporate parties and Santa's Village.
This is what everyone is talking about. Wacko performs his sidesplitting comedy and amazing magic show. Complete with a professional sound system and wireless headset. This is to provide your guest with the best audio experience. Even your guest in the back can enjoy to jokes and exciting music. This is the same show Wacko performs at Disney Resort, Magic Castle, and Santas Village. Best indoors but can be performed outside. Includes the famous Floating Table. Wacko has perfected entertaining all ages at the same time. This is accomplished by doing knuckle busting slight of hand to wow the adults but make the visuals silly to keep the kids intrigued.
45 minutes $350

Please text or email 562-237-3327 for a fast response. Wacko can also do strolling/walk around magic.
Click to see TESTIMONIES of The Wacko Show
Definately NOT an average Birthday Party magician
High quantity of repeat clients
The Wacko Show asked by special request