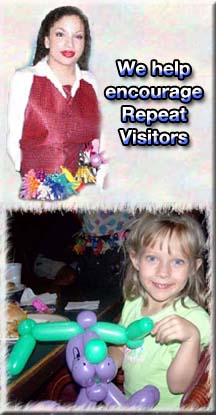 Once you see
what a big "Hit"
DINNER WITH A TWISTER is,
we're confident that
you'll want us to
come back again,
and again, and again.

An innovative way to increase
Customer Satisfaction and Profits
***
Table-side entertainment
DinnerWithaTwister.com listed entertainers transforms dining into a total entertaining atmosphere.
Our experience has shown us many ways to be a managers asset. We are professional entertainers,
with years of experience. We know how to entertain, with the art of balloons and
in some cases even face painting and magic. Entertainers are trained to help you
with your guests with light hearted comedy, during the busy times and longer than usual waits.
We never slow table turnover! We speak positively and often about your food quality and staff,
we even help diffuse negative situations, as we work as your "Good Will" ambassadors.
Kids and adults alike are genuinely entertained by our skills.

Consider these benefits
Your restaurant has a unique advantage over the competition.
Repeat business to each of your locations is promoted & encouraged with our marketing help thru our social media efforts and clients list.
Wait staff gets busy. We help buffer those times & situations. Our team members aren't just artists. They are communicators. They are people kind of people. They are there for YOU, your staff and especially your guests. We are experienced and maintain an team environment thru restaurant Etiquette & Lingo. We never slow table-turn over.
Restaurant promotions are announced at our other appearances. Of course we can discuss another kind of promotions like community events to help promote your Family Night Entertainment calendar.
Special clients and VIP's sometimes require special needs. For instance, they can hire a Dinner with a Twister listed entertainer as a separately paid reservation. In that case, if on a night normally scheduled for you, then we happily send another qualified entertainer to take care of the rest of your guests. Win/Win.
We are an attraction for Birthdays, Anniversaries and other Promotions. You and your guests can be confident that Dinner with a Twister entertainers can be there when you need us, even if not scheduled, by reserving a special date & time.
We help generate positive word of mouth, people tell their friends. Photos of families enjoying a great dinner with table-side entertainment can become viral on FaceBook, Twitter, Youtube, Instagram, Pinterest and other online social networks. Don't be left out! We are here for you!
Professional entertainers are insured.
We offer other personalized benefits to help create a special family kids night. Just ask how. Carmen Tellez (Carmen@CharmandHappy.com) cell or text 562-237-3327 or Nationwide Toll FREE 877-725-6967.
Schedule of appearance
We offer this entertainment on a weekly basis, or we can customize a schedule to fit your needs.
Please feel free to call us or our listed entertainers anytime to discuss your needs, as many are happy to offer a night of trial service in select locations. Depending on location and availability, your artist can visit each table (usually after drinks are ordered) and/or you can designate a table or space where children can go get a balloon, get their face painted or watch a little magic show.
Entertainer rates
Rates vary across the board. Restaurant entertainers offer a significantly discounted rate when a confirmed repeat agreement is set in place. An intro offer rate can be suggested. Rates can be revisited & negotiated every 3-6 months or annually. Normally, a discounted rate is accompanied by a meal and drink voucher for the evening or a furture date when the artist has time to sit down and enjoy the meal. Gratuity is never expected by the restaurant patrons; however, is always greatly appreciated as guests express thankfullness to the artist entertainer. Waitstaff is not to share their own tips with the artist entertainer.
The entire DinnerWithaTwister.com community
#RestaurantOwner #RestaurantManager #RestaurantMarketing
featuing Artist Entertainers with Animal Balloon Art, Face Painter, Magician or Special Offer.
WANTED by entertainer: Post #ISO Restaurant to work or existing locations to perform at.
WANTED by Restaurant: #ISO Artist entertainer or post Kids Night Special.
Artist entertainers looking to add information for a restaurant they currently service or post an #ISO Restuarant to work may email us or Submit an entertainer
email us or directly contact artist entertainer listed.
Include: Weekly days & times you're interested in.

Allow me introduce myself. My name is Carmen Tellez. I am the web page developer for DinnerWithaTwister. Restaurant life started for me back when I was just a teen in the late 80's as a waitress at Tommy's Diner, then later as a manager for a pizza company where I was featured in a commercial for Downey Pizza Company. I once wanted to own my own restaurant but fell in Love with providing family entertainment services instead, beginning in 1994.
In conjuntion, I also worked for print shops providing graphic arts, brochures, logos and marketing materials for real estate agents. Oh, the many things I learned about marketing, reaching out to people, business owners and family events from the real estate world.
This site was created as a way to join families interested in restaurants featuring table-side entertainment as part of their dining experience. Restaurant entertainers can join forces with family restaurants. . Restaurants can view what options are available when choosing marketing efforts for a kids night, event or banquet room celebration. Artist entertainers can post openings to restaurant managers offering thier services.
My background in restaurant environments, customer service, art, entertainment and being a mom gives me first hand experience to know both sides of owning a business and being a patron to restaurants.