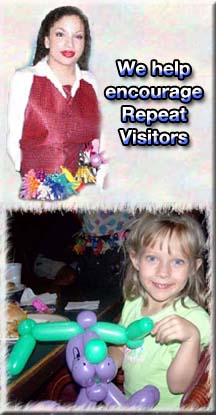 Once you see
what a big "Hit"
DINNER WITH A TWISTER is,
we're confident that
you'll want us to
come back again,
and again, and again.


COME JOIN US! Kids Night at family restaurants
featuing Artist Entertainers with Animal Balloon Art, Face Painter, Magician or Special Offer.
PUERTO RICO
Bradley
BB Balloonz (07816 400844)

#ISO (In search of a family restaurant)

Please contact Bradley to schedule a visit to your family restaurant featuring his Balloon Art Entertainment. Locations available: London (but prefers north of the Thames if possible), most places in Hertfordshire and a few in Buckinghamsire and Bedfordshire.
WANTED by Twister: Post #ISO Restaurant to work or existing
WANTED by Restaurant: #ISO Artist entertainer or post Kids Night Special
Artist entertainers looking to add information for a restaurant they currently service or post an #ISO Restuarant to work may email us or Submit a Twister
email us or directly contact artist entertainer listed.
Include: Weekly days & times you're interested in.